Gus Chambers, ex vocalista de la banda alemana de metal Squealer y del projecto de groove metal de Dave Lombardo, Grip Inc, ha fallecido el pasado lunes 13 de octubre, a la edad de 52. Gus Chambers, que hoy en día vivía en Coventry, Inglaterra, habrían tomado su propia vida.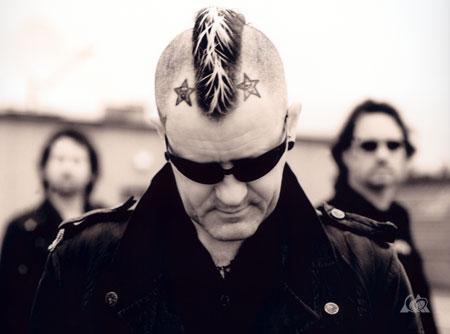 The Coventry Telegraph reporta que, uno de los músicos más queridos de la ciudad, murió el pasado fin de semana. Gus Chambers fue un rockero por naturaleza.
Él se hizo cargo de llevar la voz de Terry Hall en la banda de punk Squad a finales de los años 70, y lideró la banda a través de sus mejores momentos. Sin embargo, su etapa de payasadas punk-enloquecidas eran bastante opuestas a la del hombre real - Gus fue un pensador y un gran creyente en la equidad y la igualdad racial, aunque para algunos, solo era un punk.
Cuando las últimas cenizas de la revolución punk se desvanecieron, Gus tomó sus habilidades como líder frente a la nueva banda 21 Guns. Quienes lanzaron el single Ambition Rock en Neville Staples's Shack Record .
Gus más tarde se trasladó a Norte América y formó Sons Of Damnation, para luego finalmente incorporarse a las filas de la banda de metal de alta energía Grip Inc. La cual fue formada por el el baterista de Slayer, Dave Lombardo. Lanzaron tres álbumes desde mediados hasta finales de los años 90 - "Power Of Inner Strength", "Nemesis", y "Solidify"- y, finalmente, regresarón con un cuarto disco titulado "Incorporated" en 2004, que fue recibido como un verdadero retorno a la forma original por la crítica.
Más tarde, Gus fue parte de la magnífica y el increíble sonido de Mantra Sect. "He sido muy afortunado en mi carrera", dijo Gus. "He tenido el privilegio de tocar en frente de miles de personas en festivales como Rock in Rio y el Dynamo Festival en Holanda. Nada sin embargo traer recuerdos inolvidales como tocar en frente de tal vez 20 o 30 personas en The Hand and Heart o en la sala trasera de The Swanswell ".
Coventry Telegraph concluye: "La línea, "se lo echará mucho de menos ", está siempre trillada en estas ocasiones, pero esta vez es totalmente apropiado y, a juzgar por el número sin precedentes de personas que me han llamado para decirme la trágica noticia, este es un gran rocker que nunca será olvidado y Dios no lo quiera, nunca será sustituido".