Viendo lo que saldrá oficialmente en la escena mundial este cercano próximo año, les tengo aquí algunos discos...
El nuevo
Therion
titulado
Gothic Kabbala
(sale el próximo 27 de febrero) marca la trayectoria de esta banda de una forma particular a lo que uno podría esperar. Ya están planeando la siguiente gira mundial y pues esperemos que los tengamos ¡¡por tercera vez aquí!!.
Este disco doble de 15 canciones es diferente a sus últimos trabajos (quizás no entre en mis discos favoritos pero siempre nos ofrecen algo nuevo). Luego de escucharlo un par de veces, sentí algo como cuando salió el
A'rab Zaraq Lu
cid Dreaming
. Mis temas favoritos son: The Wand Of Abaris, The Perrennial Sophia, The Gothic Kabbala y Adulruna Rediviva (¡¡de 14 minutos y medio!!).
Disco 1
1.
Der Mitternachtlöwe
05:38


2.
The Gothic Kabbalah
04:32


3.
The Perrennial Sophia
04:53


4.
Wisdom And The Cage
05:13


5.
Son Of The Staves Of Time
05:10


6.
Tuna 1613
04:21


7.
Trul
05:11


8.
Close Up The Streams
03:55


Disco 2
1.
Wand Of Abaris
05:50


2.
Three Treasures
05:30


3.
The Path To Arcady
03:53


4.
TOF - The Trinity
06:17


5.
Chain Of Minerva
05:28


6.
The Falling Stone
04:50


7.
Adulruna Rediviva
14:36
Existentia
(25 de Enero), el nuevo
Trial Of Tears
termina una época en la banda y tal vez hasta ahora la más importante. Después de grabar este disco y de su última gira que incluyó países como México, la mitad de su
line up
(incluyendo al vocalista de Green Carnation, que pena la verdad), decide salir y dar casi por hecho el final del grupo, sin embargo Ronny Thorsen (vocalista y fundador) decide que no será así y que la banda seguirá adelante sin ellos.
Ojalá les vaya igual de bien y que no pierdan ese su sonido característico que hace a esta, una de las mejores bandas de gothic metal progresivo. Todavía para mi
Free Fall Into Fear,
es uno de sus mejores discos, pero no dejen de escuchar este.
Los
riffs
son cada vez más duros en conjunto, con las voces tanto limpias como guturales y la presencia otra vez de una vocal. Entre mis temas favoritos están The Closing Walls, My Comfort y Shades of Yesterday.
1.
Deceptive Mirrors
04:28


2.
My Comfort
04:37


3.
Venom Inside My Veins
04:42


4.
Decadence Becomes Me
04:20


5.
She Weaves Shadows
04:48


6.
The Closing Walls
04:50


7.
Empty Room
04:35


8.
Poisonous Tongues
04:18


9.
As It Penetrates
04:12


10.
Shades of Yesterday
04:15
Debo admitir que
Sirenia
no me gusta tanto como a otros, no niego que sus dos primeros discos son buenos pero ahora que he escuchado el nuevo
Nine Destinies And A Downfall
(23 de Febrero), reconozco que es una buena banda gótica.
Me sorprendió el sonido de la batería, puede ser porque el nuevo baterista es el ex
Trail Of Tears
, Jonathan Perez. Además tienen una nueva vocalista que a ratos aburre por escuchar los mismos tonos con los que canta. Si les gustaba Sirenia antes pues este disco no los va decepcionar. Recomiendo los temas 1, 4, 6 y 8.
| | | | |
| --- | --- | --- | --- |
| 1. | The Last Call | 04:45 | |
| 2. | My Mind's Eye | 03:41 | |
| 3. | One By One | 05:28 | |
| 4. | Sundown | 05:05 | |
| 5. | Absent Without Leave | 04:54 | |
| 6. | The Other Side | 03:55 | |
| 7. | Seven Keys and Nine Doors | 04:55 | |
| 8. | Downfall | 04:44 | |
| 9. | Glades of Summer | 05:36 | |
El 15 de Enero sale oficialmente el nuevo
Moonsorrow
,
V: Hävitetty
(Chapter V - Ravaged). Esta banda de uno de los mejores viking folk metal nos presenta en esta oportunidad dos temas (¡¡cada uno de media hora!!), con intros bien ambient que luego pasan al folk y voces guturales increíbles. Este nuevo disco presenta arreglos muy elaborados y al tratarse de temas tan largos pues uno no se cansa hasta que acaban.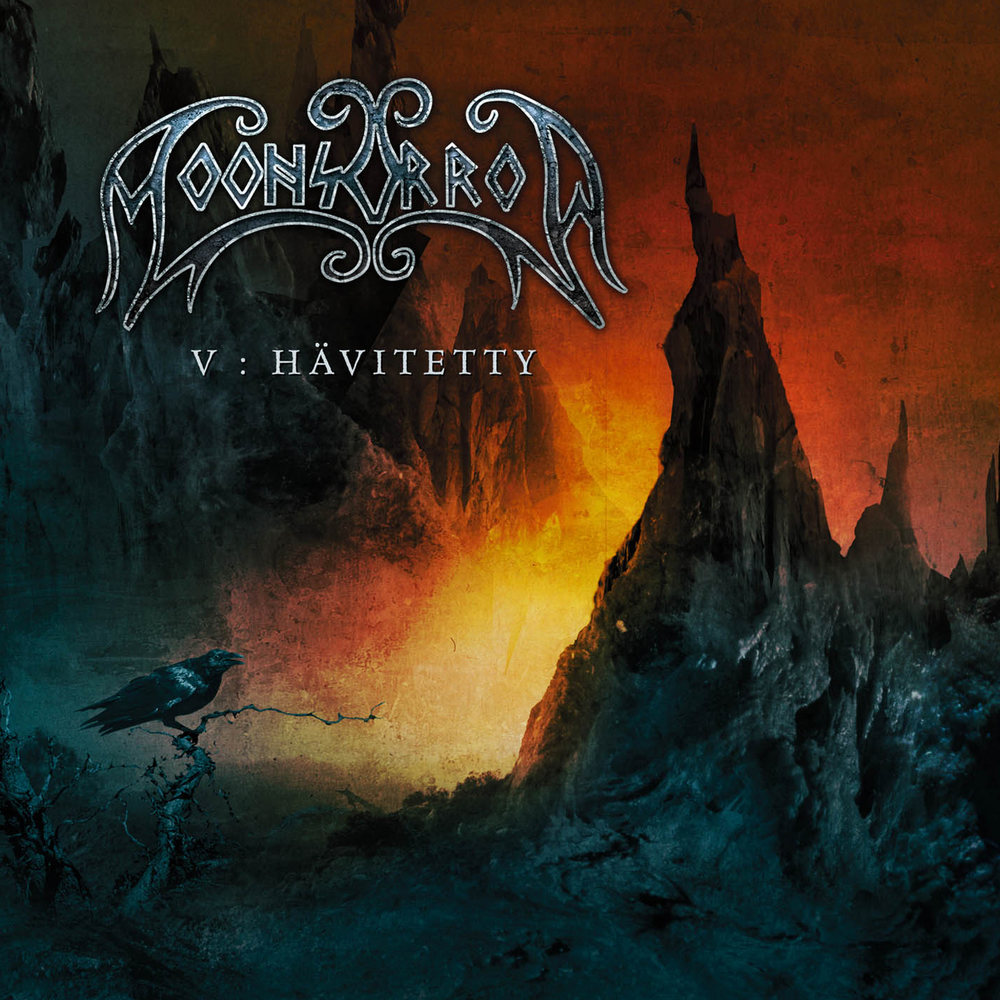 1.
Jäästä Syntynyt Varjojen Virta
30:10


2.
Tuleen Ajettu Maa
26:19
Nombres traducidos de los temas:
1) Born of Ice/ Stream of Shadows
2) A Land Driven Into the Fire
Ahora bien, sobre algunos álbumes para el próximo año que aún no están disponibles, les comento sobre algunos que me llaman la atención. La banda de folk metal
Finntroll
sacará este próximo 28 de Marzo su nuevo álbum titulado
Ur Jordens Djup
, serán 11 temas. Luego de discos como Midnattens Widunder o mi favorito Jaktens Tid, pues esperemos a ver que nos traen ahora.
Sin fecha hasta ahora para el lanzamiento del nuevo
Naglfar
, titulado "
Harvest
" (consta de nueve temas), esta banda de Death/Melodic Black Metal me parece muy buena desde que escuché el
Vittra
(discazo producido por Peter Tagtgren) y el último
Pariah
que es alucinante. Otro disco que ansío escuchar.
Finalmente sobre el esperado nuevo álbum de
Dimmu Borgir,
solamente se sabe el nombre "In Sorte Diaboli". Esta banda ha tenido mucho aceptación e incluso es muy criticada, pero no hay que dejar de lado que tiene muy buenos músicos de reconocida trayectoria. Y la incorporación de Hellhammer (Arcturus, Mayhem, The Kovenant, etc.) como uno de los mejores bateristas que hay actualmente, pues aumenta más la expectativa, simplemente hay que escuchar el
Störmblast
regrabado para darse cuenta de lo que Dimmu Borgir puede ofrecer ahora.